How Long to Flush an Outboard Motor For?
Flushing an outboard motor is a crucial step in making it last and work properly for many years to come.
It can be a tedious process with many people skipping a step or two along the way, but one crucial factor is flushing your outboard for the right amount of time.
Flush your outboard motor for at least 3 minutes for lower horsepower outboards and usually around 15 minutes for motors over 200 horsepower. It's recommended to do all for 15 minutes to be on the safe side.
Doing the above will mean you are giving the water time to sufficiently clean the inside of the outboard and get it ready for storage and cleaned for your next time out.
Let's jump into some example data on this to show you how flushing time changes with different manufacturers and horsepower of the outboard motor.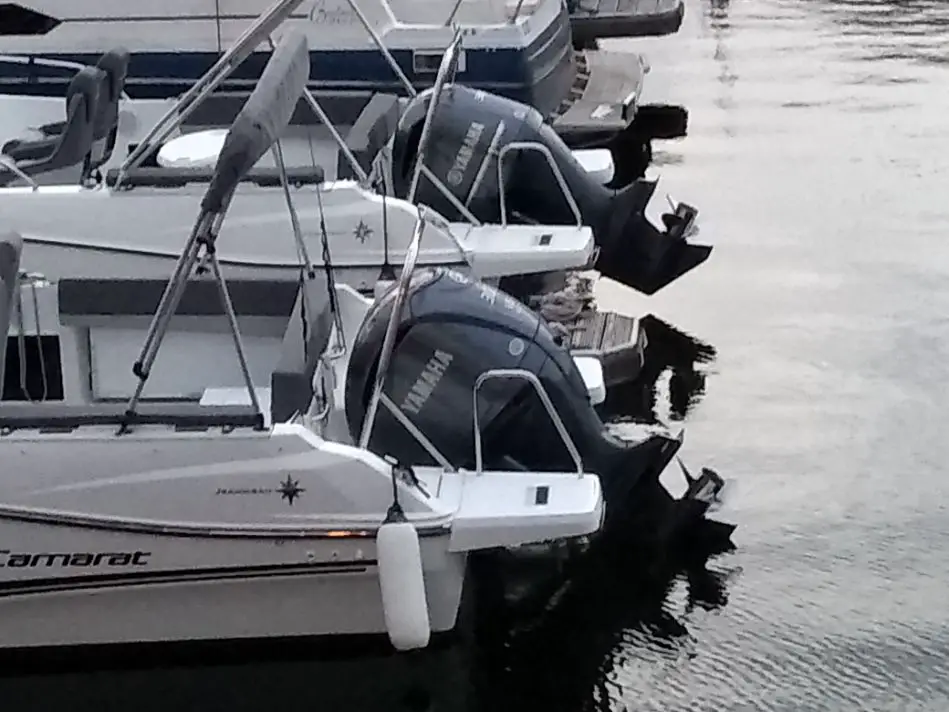 Outboard Motor Flushing Times: Data
To give you the clearest view of the flushing time for a range of outboards, see the table below from several manufacturers to see how long they recommend flushing each time.
| | |
| --- | --- |
| Manufacturer and Model (Horsepower) | Outboard Flushing Time* |
| Suzuki DF2.5 | 5 minutes |
| Yamaha F2.5 | At least 3 minutes |
| Mariner 20/25HP | 3-5 minutes |
| Yamaha F50/60/70 | At least 3 minutes |
| Suzuki DF100A-DF115A-DF140A | 5 minutes |
| Mercury 115/135/150/175OptiMax | 3-5 minutes |
| Suzuki DF250AP/300AP | 5 minutes |
| Yamaha F225/250/300 | 15 minutes |
| Mercury 225/250/250-300 Pro/300 Verado FourStroke | 15 minutes |
The times provided in the table here are taken from manufacturer's manuals but please check these for yourself to be sure of any changes or differences for your exact model.
You will see from the data above that recommended outboard flushing time generally increases with horsepower, except for the Suzuki outboards, which still only recommend a flushing time of 5 minutes.
Again, note that going over this flushing time will only help and not harm your engine, so it is always recommended to go longer and flush for 15 minutes wherever possible. This will mean the most circulation of water and time to break down and the residue inside.
This means you will want to be running your engine all this time, too, with it placed in a test tank – again, refer to your owners' manual for specifics as the flushing process has several steps which must all be followed to make sure your outboard lasts as long as possible.
Use Recommended Outboard Flushing Tools and Accessories
Tools nowadays make flushing your outboard motor much more easily than in the past.
Specifically, get yourself an outboard flush kit (Amazon) to make light of this frequent but essential task.
Although a premium option, the SEACHOICE Flush Kit consistently comes out highly rated for its adaptability to all the main outboard brands (Mercury, Mariner, Yamaha and Suzuki). It also has a handy check valve to make things easier.
The video below gives a proper demonstration of how this flushing kit works.
Add Fluids to Further Remove Salt
You can also add in fluid cleaning products like boat salt remover (Amazon) to add to the cleaning effect of flushing. This not only helps to break down the salt build up but also adds a protective layer to protect the surface from future corrosion, at least for a while.
Before adding this kind of product into your outboard flushing routine, be sure to check your owner's manual carefully and not to void any warranty you might have, although the above are well-known boating products so from that side you are definitely covered.